The 2019 Dukeries Rally saw the milestone of the 60th consecutive running of the event and also the 50th anniversary of the founding of the long time event sponsors Rainworth SKODA.  The former Motorsport News Circuit Rally Champion and two-time winner of the Donington Rally Ian Woodhouse made a winning return to rallying at Donington Park, following an 18 month lay-off having had his 2,500cc Ford Escort Mk2 totally rebuilt.
It was very wet and greasy for the first two stages, but Woodhouse/Jason Leaf were quickest on both to take a 27 seconds lead over Graham Coffey/Jon Atherton's Ford Fiesta WRC. Dave Welch/Steve McNulty's Subaru Impreza N15 was a further 10 secs back in third. Having rebuilt the engine of their Talbot Sunbeam Lotus with a new cylinder head and 30 more bhp, Mike Taylor/Martin Haggett were fourth.
Josh and Tamsyn Davey's Darrian T90 had been third best on the opener, but lost time on stage two to drop to fifth. "We were sideways everywhere! We slid in third gear and even more in fourth, but picked up a misfire towards the end of each stage" he said. Martin Hodgson/Tony Jones had brought their Escort back up to sixth after a lucky escape on stage one. "We swapped ends on the Craner Curves, spun, rejoined and carried on," Hodgson explained. Martin Pavier/Pete Kettle's Impreza was seventh, "too cautious on the first stage but we went 20 secs faster on stage two," said Pavier. Nick Beddoes/Paul Dyas had a good first run, as their Escort was sixth best, but grip problems dropped them to eighth. Roland and Stuart Brown's Escort Mk1 was ninth and John Griffiths & Nigel Wetton's Impreza 10th.
Despite running wide at the Melbourne hairpin, Woodhouse's lead was up to 45 secs by the end of stage three. Although Coffey was still second, Taylor had shot back into third place, with two seconds in hand over Welch, while Hodgson was up to fifth at Davey's expense.  While Woodhouse continued to ease himself clear, Coffey's hold on second had been reduced to six seconds. But it wasn't Taylor in third, it was Welch and Hodgson both tied." I put it on the grass at Melbourne after outbraking myself and stalled," Taylor admitted after dropping to sixth again behind Davey. Pavier and Beddoes continued to hold station in seventh and eighth, Brown was still ninth, but Karl Simmons/Mark Glennerster's ex David Bogie R5 Skoda Fabia was up into 10th, after Griffiths pulled out.
Woodhouse found his lead pegged by three seconds on SS5, but apart from second placed Coffey, it was all change again. Davey was back to third, while Welch was still tied with Hodgson for fourth, but the latter had dramas. "The paddleshift went and I tried to go manual and I finished the stage in third gear," he explained.
Two stages left and it was dry, despite scaring himself with a slight grassy touch at Redgate on the final stage, Woodhouse took the win by 1m 04 secs from Coffey. "Jason had told me to be careful there a stage earlier, but it was last flourish," he admitted.  Davey went into the penultimate stage in third, but after colliding with a chicane at Coppice, he picked up a 30 secs penalty and left his rear bodywork at Redgate. Taylor therefore moved up to third, but the then lost out to Welch on the final run, despite the Subaru driver having a grassy exit at Melbourne a stage earlier.
So Taylor was back to fourth and Davey managed to take fifth. Hodgson had a late overshoot at Goddards which cost him two places on the final stage, while Pavier recovered seventh from Brown with a stage to go. Beddoes had a few more excursions which dropped him out of the top 10, promoting both Simmons and the Escort of Shaun Weston/Dean Mevo.
There was little movement at the head of the classes. Dale & Andrew Lawson's MG ZR was never headed in Class 1, taking the spoils by 46 secs from Jonathan Hudson/Chris Worrall's Suzuki Swift, with Mark Annison/Ian Humphrey's Ford Puma third throughout.  Anthony & Peter Mann's Honda Civic led class 2 on the opener, but having slipped to third on stage three, they lost a wheel on SS5. Chris Ruck/Steve Harris headed the class for the rest of the day, "my first time in the car and first time in a left hand drive," said Ruck. But their comfortable lead was gradually reduced due to a power steering problem, but they still had 16 secs to spare over Ashleigh Morris/Jamie McTavish's Fiesta, with Michael Farmer/Bruce Lindsay's Ford Focus taking third, after Alex Kirk-Willey and Sasha Herriott's Corsa had a gearbox mount break.  In class 3 it was Davey from Brown all day, both being top 10 finishers, while Cathy Sewart/Colin Stephens' Talbot Sunbeam Lotus held a daylong third. Woodhouse topped class 4, from Taylor, Hodgson and Weston, while Coffey, Welch, Pavier and Simmons had class 5 sewn up.
There were lots of Dukeries MC competitors on the event (too many to mention them all) and there were some excellent performances and a few disappointments.
Dave Welch / Steve McNulty (Subaru N15 ) finished an excellent 3rd overall on the event against many more specialist rally cars. Karl Simmons finished 9th overall on his first event behind the wheel in 18 months. However, John Griffiths and Nigel Wetton could not get the car to run right and after various adjustments were unsuccessful decided not to risk the engine.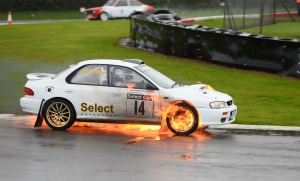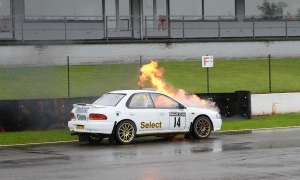 Sean and Sam Bailey (Subaru Impreza) had a much more dramatic exit following an engine fire on SS1.
Meanwhile Simon Belcher had an unofficial competition with Connor Tolson on Stage 1 to see who could go furthest into the gravel trap at the end of the Melbourne Loop, which Connor won handsomely! Both were eventually recovered and continued in the event, but the penalties they incurred ended any hope of a good result. At least they ended up unscathed which is more than could be said for Antony Cowpe / David Simmons (Ford Sierra GLS) who had a big accident with a wall resulting a lot of car damage and instant retirement.
Despite a spin on stage 3, John and Craig Stevens (Escort Mk2) ended up a very creditable 17th overall and won the close contest with Steven & Cathy Booth (Escort Mk1) who were 19th, Paul Rees / Ian Faulkner (Vauxhall Astra) who were 22nd and Chris and Steve Grundy (Escort Mk2) who finished 23rd.
In this 60th anniversary event there were a number of this years competitors who also achieved significant milestones. Steve Grundy drove on his first Dukeries Rally back in 1971. Simon Ashton, who was with Blake Morris in the Ford Ka, was contesting his 25th Dukeries Rally and on his birthday..! They finished just a few seconds ahead of Ian Bass / Harry Walshaw. Also competing on the event was Geoff Moss (with Dean Hickling) who was on his 34th Dukeries Rally and Ian Humphrey (with Mark Annison) who marshalled on the Dukeries Rally back in 1970 when the event ran a stage at Donington before the circuit was brought back into use by Tom Wheatcroft.
A picture gallery will be available HERE
This report was initially complied by Peter Scherer with subsequent additions. Photos by Malc Almond and Kevin Money.